James Carey - April 23, 1947 to June 21, 2018
My father was a proud, passionate, curious, fun-loving, determined man who loved adventures and was dedicated to his immediate and extended families.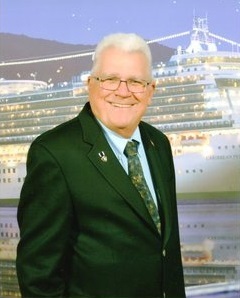 Garrick and I did not hear many tales of his youth living with dad, Donald, mom, Irene, and two brothers, John and Richard, or Joe as they called him. However, Grandma Irene told us what turned out to be my favorite story of dad's determination. At the tender age of 5, Grandma made him eggs for breakfast before school. Now, in Grandma Irene's house, you ate what you were given, since "there were starving kids in China who go without." Dad did not want eggs, but he knew he couldn't disobey his mother. He put the eggs in his mouth as instructed and went off to school. He pushed through the morning hours of school and returned home for lunch. He wouldn't say anything to Grandma Irene, which she probably found quite odd, because Dad talked. She asked him to open his mouth and discovered … eggs. Grandma Irene told him to spit them out and fed him lunch. Dad found a way to avoid eating those eggs without disobeying his mother.
Another discovery of Dad's youth reflects his sense of adventure. Tarzan was big in those days and there was a forest behind the family home in Syracuse. He spent many hours on summer days running through that forest without a stitch of clothing on … no loin cloth … nothin'. He never stopped searching for similar adventures throughout his life, though, usually, with clothes.
One of Dad's great adventures involved travel to the other side of the world. I'm sure he was not overly excited about the adventure at the time, but he would come to be very proud of his experience. Dad served in the US Army during the Vietnam war with the 1st/1st Cavalry earning 2 meritorious service awards and a purple heart. We've got pictures.
Camping was a manifestation of Dad's endless search for adventure. Though I suspect he did, I do not know for sure if he loved camping before 1966. He first met mom on a camping trip that year through family friends. After long-distance relationship building while he was in the Army, they married following his return from Vietnam in 1968 on the longest night of the year ... ... We've got pictures. They're clean. They then started building the family he was so proud of and dedicated to. I came along in 1971, Garrick in 1973, and we started our slow migration west from New York, through Tennessee, ultimately landing in Arizona.
Dad fixed material handling equipment and Mom crunched numbers, so we could go on vacation. More adventure. More pictures. Dad planned every minute of our vacations, so there would be no wasted time. Before a vacation, Dad worked hard wrapping up things at work during the day and preparing for the trip at night, so we could leave immediately after work to get a head start. No wasted time. To this day, I am amazed at my Dad's level of dedication to vacation. Christy and I have to take a whole day at the beginning of vacation to get ready. We tried to do it Jim Carey style a few times and couldn't cut it. Dad took Mom, Garrick and I on some great vacations before we moved on start our own families:
every state on the Gulf Coast
Thousand Islands in New York and Canada … really most of upstate New York.
Yellowstone
Every attraction and national forest in Arizona from the Grand Canyon to the White Mountains to Mount Graham
Many other vacations too long to list
But ... We've got pictures.
Mom and Dad continued their vacations after Garrick and I left. They've been on many cruises, crossing both the Atlantic and Pacific oceans, passing through the Panama Canal, with visits to Normandy, London, Norway, and Hawaii … a couple of times. They've been on camping vacations back to New York, one trip each to Oregon and Yellowstone with my family, and several trips to the White Mountains by themselves or with Garrick or my family.
We've got pictures.
Dad loved his pictures. He had a story about each and every one of them. We used to spend hours in front of a portable screen and his slide projector, stopping at each one, so he could tell a story … with lots of details … for a long time. Mom would have to remind him to move on after about 10 minutes talking about a picture.
Details and details in stories of his pictures and adventures were not the only thing Dad liked to talk about. I remember many phone calls where I would ask a question about his RV, or something, anything really, and sit back and listen for 30 to 45 minutes hearing every detail without saying anything, finally interjecting with another question to move on to another interesting topic. My wife, Christy, would wonder about those calls, because there was no other side of the conversation. I miss those calls.
Everything was not just fun and games, though. Dad was a talented technician and do-it-yourselfer, especially where mechanical things were concerned. He was the go-to guy when something went wrong. I don't know how many times he rescued me, my brother, or one of our friends from a vehicle issue when we were younger. I remember him complaining about things at times (something about creating the Grand Canyon in a brake rotor), but I do not remember him ever swaying from his dedication to his family or extended family, including friends, by saying no.
His dedication to family manifested in many different ways:
moving his sister-in-law, Valerie, many, many times,
providing support and, sometimes, a bed to Valerie's children Ben and LeeAnne,
helping my wife Christy pick up her first brand new car she couldn't drive because it had a manual transmission,
trekking from his house up to the UofA campus with my son Cameron's car, so he could come home,
teaching my son Colin how to take a foul in basketball (a little accident resulting in a 4 or 5 year old Colin getting knocked to the ground),
taking Garrick's wife, Talia, on her first ever road trip,
and keeping Garrick's son Charlie occupied while waiting for the school bus with games of rock-paper-scissors every school day.
Stories could go on for a long time ... remember there were many details to be shared ... but I will stop here and leave you with this: My father was a great man. I can only hope to be as great as he was.
given at Memorial Service on July 25, 2018